Opinions from the

Doogee S60

Share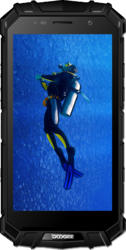 5.2"FHD56% useful16:9

Helio P25 Octa-Core 6 GB RAM 64 GB

Android 7.0 Nougat Android 7.0 Nougat
User score
Overall satisfaction
85 opinions
Screen7.1
Performance6.4
Camera6.8
Connectivity7.3
Battery8.5
Want to comment on the Doogee S60?
It'll only take a minute, you'll help people decide.
Design & Materials
Is it a drop-resistant and scratch-resistant smartphone?
85 opinions
Do you think it's a nice phone?
85 opinions
Is it comfortable?
85 opinions
Can you see it well in the sunlight?
85 opinions
Performance & Hardware
Does it have good sound?
85 opinions
Does it work smoothly in everyday use?
85 opinions
What's your experience been with demanding games?
85 opinions
Camera
Quality of daytime photos
85 opinions
Quality of nighttime photos
85 opinions
Quality of selfies
85 opinions
Does it have a powerful flash?
85 opinions
Connectivity
Does it have good coverage for calls?
85 opinions
Quality of the GPS
85 opinions
And the WiFi?
85 opinions
Battery
How long does the battery last?
1%

Less than half day

6%

Less than a day

23%

One day

40%

More than one day

30%

Two days or more
85 opinions
Software
Did it come with preinstalled applications?
12%

It comes with a clean operating system

73%

It has preinstalled apps but they don't bother me

15%

It has preinstalled apps that I can't uninstall
85 opinions
Do you regularly receive updates?
18%

Never

12%

Once a year

54%

Every six months

16%

Every two months or less
85 opinions
View more
User reviews
User Reviews
wedxzawe

Supposed to be rugged but falls apart on its own after 8 months without harsh conditions. No support from Doogee!

We had bought two of these at the same time.My gf droped it once and screen broke.Both started having issues charging.My connector pin cam loose and came out entirely.Doogee has no support and they don't answer to emails!Tried wireless charging but does not charge!
Phones randomly reboot since we got them,even in standby mode.Has ton of apps preinstalled you can't get rid of.I used a firewall and the 'Doogee' app spams connections to china like crazy!When charging works the phone gets really hot and is electrically poorly isolated.The microphone is so bad that people always tell us they can't hear a word we say over the phone, especially when using it to use it hands free for conf calls or in a car.

I was hyped by their concept when I bought these phones, but never ever again would I buy a Doogee. over night. They really spared every penny with the hardware! Cameras are grainy and bad, microphone is a

Positives

screen resolution
ram
sometimes waterproof

Negatives

hardware reliability
always charging issues (cable and wireless)
no support at all (doogee never answers)
random standby reboots + random idle overheats
unreliable in every aspect
bad microphone

Screen5.5
Performance4.0
Camera5.2
Connectivity3.3
Battery9.0

View answers

efchrisp

Doogee S60

4GB · 32GB · Lite

My first Doogee and my last Emailed two times for help no reply.Small price,you get what you pay for, good lesson

at the local donut shop or Burger place the wife's phone would connect, mine would say connected but would show no internet connection. To many problems will be getting a better phone next time. .

Screen4.5
Performance5.6
Camera5.2
Connectivity2.3
Battery7.0

View answers

eddieringleb

I wouldn't buy it again.

I bought the phone for a road trip but the front camera failed in the first 3 months and even with the help of the community not be fixed. No reply from customer service either.
Phone goes black and into scan mode which cant be exited, only with full shut down and also does the GPS only work sometimes.
The phone is nice and works otherwise well but these issues I had made me want it to return after 6 months.

Screen3.2
Performance2.5
Camera6.2
Connectivity8.0
Battery9.0

View answers

paulschoe

Disaster: it was repeatedly not waterproof

I loved the Doogee. I loved it rugged looks, I loved the European design. I loved its good price. Unfortunately I NEVER HAD MORE PROBLEMS than with this phone. After a month, I went swimming. Even though the covers were closed, the phone didn't work anymore when I got out. I returned it to the manufacturer who acknowledged that the covers were closed but they were not closed 'good enough'. What can you say? So I paid for the pricey repair. They shipped a new phone. All my data lost. A few weeks later I dropped it from my hands and the screen broke, had to order a new screen. Then the phone wouldn't charge anymore. And yesterday I went into the water, triple-checked that the covers were tightly closed. I was in the water maybe for 2 minutes, the phone in my pocket and submerged for maximum 20 centimeter. I got out: it didn't work again.
In the end, a phone has to work. I now lost all data twice. It is the worst that can happen. You are a better of with a non-rugged phone.

Negatives

not waterproof
screen easily breaks

Screen5.7
Performance7.0
Camera4.5
Connectivity8.3
Battery7.0

View answers

BonetoPick

Sever quality control issues, very dissapointed

Everything about the phone is fine, except that it cannot hold together. The phone would switch off randomly, later finding out it was a manufacturer fault that caused it to shutdown at the slightest vibrations. Sent it back, waited 3 MONTHS for the repair to happen and get back to me. Got back to me and oh no, the IP68 rating gone (or never was ever actually valid), and now got a very expensive brick, used as a center piece of all those shattered expectations.

Screen7.0
Performance7.0
Camera7.0
Connectivity7.0
Battery7.0

View answers

anonymous_122271

Severe quality control issues, very dissapointed

The phone in theory is a great product, it worked well while it did a little bit of lag here and there. Looks great and feels good in the hand. The thing is, it just wasn't very good at actually being anything more than a well marketed rugged smart phone. The phone would constantly switch itself off, this was a result of a manufacturer error which resulted in the phone shutting down after even the slightest vibration. Sent the phone back, wait three months... the phone returns repaired... but oh no it has lost (or never had) its IP68 rating and now is a very expensive brick, that works well as a center piece of smashed expectations. As a final question to ask yourself... how does a rugged smart phone only come with a 6 month warranty?

Screen6.3
Performance5.7
Camera7.3
Connectivity7.0
Battery9.0

View answers

YUVEN007

A good rugged smartphone

Its a good rugged smartphone with powerful performance. but its size and weight in sometime uncomfortable to use in every situation

Positives

Good IPS Screen
Powerful Performance
Decent Camera
Soild build Quality
Front Camera Ok

Negatives

Size and weight
lot of button all along the egde make confusion

Screen7.5
Performance7.7
Camera7.5
Connectivity7.7
Battery7.0

View answers
This service may contain translations powered by Google. Google disclaims all warranties related to the translations, express or implied, including any warranties of accuracy, reliability, and any implied warranties of merchantability, fitness for a particular purpose and noninfringement.