Alerts
Alerts
No new notifications
When your target price is reached,
you will be able to check alert messages here.
Log in
Log in
Add devices to your profile, rate and comment on your smartphones...
Country, language & currency
Interface language
Opinions from the

Sony Xperia XA

Share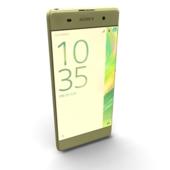 Summary
Helio P10 Octa-Core 2 GB RAM 16 GB

Android 6.0 Marshmallow Android 6.0.1 Marshmallow
User score
Overall satisfaction
30 reviews
Screen7.9
Performance6.3
Camera7.4
Connectivity8.0
Battery5.3
Want to comment on the Sony Xperia XA?
It'll only take a minute, you'll help people decide.
Design & Materials
Is it a drop-resistant and scratch-resistant smartphone?
30 reviews
Do you think it's a nice phone?
30 reviews
Is it comfortable?
30 reviews
Can you see it well in the sunlight?
30 reviews
Performance & Hardware
Does it have good sound?
30 reviews
Does it work smoothly in everyday use?
30 reviews
What's your experience been with demanding games?
30 reviews
Camera
Quality of daytime photos
30 reviews
Quality of nighttime photos
30 reviews
Quality of selfies
30 reviews
Does it have a powerful flash?
30 reviews
Connectivity
Does it have good coverage for calls?
30 reviews
Quality of the GPS
30 reviews
Battery
How long does the battery last?
20%

Less than half day

37%

Less than a day

23%

One day

20%

More than one day

0%

Two days or more
30 reviews
Software
Did it come with preinstalled applications?
3%

It comes with a clean operating system

53%

It has preinstalled apps but they don't bother me

43%

It has preinstalled apps that I can't uninstall
30 reviews
Do you regularly receive updates?
15%

Never

31%

Once a year

38%

Every six months

15%

Every two months or less
30 reviews
View more
User reviews
User Reviews
menazari26

Sony Xperia XA

Global · 2GB · 16GB · Dual SIM

1 year ago

It's a nice phone for a low budget.

Overall it works good for daily use but when it comes to gaming it lacks the power and over heats. and about the camera , it takes some good pictures and it's only 13MP. and about the display glass; it breaks easily when you drop it from 2 meters height, i had to replace it three times.

Pros

good phone for a low budget
one day battery life
it was good in its glory days

Cons

not a gaming phone
it over heats too quickly
easily breakable display glass
low ram and storage capacity

Screen6.5
Performance5.0
Camera6.7
Connectivity7.0
Battery7.0

View answers

cfiftycc

Sony Xperia XA

Global · 2GB · 16GB

3 years ago

Useless GPS. Bloated with apps. Uses NAND memory. ROOT to get best xperience.

SONY ARE NEVER UPDATING THIS PHONE TO OREO. BUY A DIFFERENT PHONE

Stuffed with bloatware. Over 1GB of bloatware. It is also a NAND based device so needs root + a specific system app uninstaller from the play store to get rid of the bloat.

The GPS is useless unless out in the open. Forget about it working in a vehicle. Passivated car windows contain metal particles and the XA hasn't a hope of getting satellite lock. I got a bluetooth gps for the car in the end.

Aside from that the WIFI IS OK EXCEPT WHEN BLUETOOTH IS ON. Wifi speed drops from ~50 mb/s to ~3 mb/s with bluetooth on. Awful. Truly awful. Many other models and manufacturers have this same issue.

The phone is more responsive once rooted and the bloatware is removed. The camera is so-so. I am mainly interested in app responsiveness so happy with that.

Avoid this phone if you need GPS and need good screen visibility in sunlight.

Otherwise no one is going to steal this phone for its features.






Pros

responsive once bloatware removed
sharp screen
heavy enough to not slip out of hand
Where is OREO? Oh it's never going to happen? Bye

Cons

BAD. BAD. BAD GPS. Get an external GPS
poor screen visibility in sunlight
AWFUL WIFI speed with bluetooth on
loaded with 1GB+ bloatware
uses NAND storage
NO OREO updates

Screen6.3
Performance7.0
Camera6.8
Connectivity3.7
Battery7.0

View answers

int2k

Sony Xperia XA

Global · 2GB · 16GB · Dual SIM

4 years ago

I want a new phone

The price for this phone drops like hell.
Battery is terrible, a bit better while using stamina but you can't see the screen under the sun lol.
few games aren't compatible, lots of old gameloft games are not compatible too, Some are, but hard to find and full of virus. Oh and btw, you can't play FF XV pocket edition here, it is not supported.

The available storage is apprx 10.4gb, nearly half of which is used for the system only, so expect to use it with 1-2 gb left after installing essential apps for your daily dose of entertainments.

Pros

Nice design, though I think the black "ring" around the screen doesn't match with the overall color
It support dual sim cards

Cons

BATERRY
BATERRy
BATERry
BATErry
BATerry
The back of the phone is easily scratched

Screen8.0
Performance7.7
Camera8.5
Connectivity9.3
Battery5.0

View answers

tsak4john4

Sony Xperia XA

Global · 2GB · 16GB

4 years ago

thomasbayet

Sony Xperia XA

Global · 2GB · 16GB

5 years ago

charlizef47

Sony Xperia XA

Global · 2GB · 16GB

6 months ago
This service may contain translations powered by Google. Google disclaims all warranties related to the translations, express or implied, including any warranties of accuracy, reliability, and any implied warranties of merchantability, fitness for a particular purpose and noninfringement.