Log in
Log in
Add devices to your profile, rate and comment on your smartphones...
Country, language & currency
Interface language
Opinions from the

UMIDIGI Bison

Share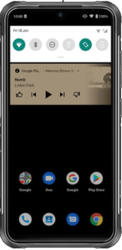 Summary
Kimovil review

Pros

Battery
NFC
Price
Dust and Water Resistance

Cons

Camera quality
Night photos
Sound
6.3"FHD+75% useful19.5:9

Helio P60 Octa-Core 6 GB RAM 128 GB

Android 10 Q Android 10
User score
Overall satisfaction
34 reviews
Screen8.2
Performance7.8
Camera8.1
Connectivity8.5
Battery7.9
Want to comment on the UMIDIGI Bison?
It'll only take a minute, you'll help people decide.
Design & Materials
Is it a drop-resistant and scratch-resistant smartphone?
34 reviews
Do you think it's a nice phone?
34 reviews
Is it comfortable?
34 reviews
Can you see it well in the sunlight?
34 reviews
Performance & Hardware
Does it have good sound?
34 reviews
Does it work smoothly in everyday use?
34 reviews
What's your experience been with demanding games?
34 reviews
Camera
Quality of daytime photos
34 reviews
Quality of nighttime photos
34 reviews
Quality of selfies
34 reviews
Does it have a powerful flash?
34 reviews
Connectivity
Does it have good coverage for calls?
34 reviews
Quality of the GPS
34 reviews
Battery
How long does the battery last?
9%

Less than half day

6%

Less than a day

15%

One day

53%

More than one day

18%

Two days or more
34 reviews
Software
Did it come with preinstalled applications?
30%

It comes with a clean operating system

64%

It has preinstalled apps but they don't bother me

6%

It has preinstalled apps that I can't uninstall
34 reviews
Do you regularly receive updates?
0%

Never

8%

Once a year

46%

Every six months

46%

Every two months or less
34 reviews
View more
User reviews
User Reviews
noname4me2u

UMIDIGI Bison

Global · 6GB · 128GB

2 months ago

I'm enjoying the Umidigi Bison, also own model X and A7 Pro, Bison is my favorite

Glad I purchased this phone, long delivery from AliExpress is annoying, they offer many excuses. Glad I purchased a custom fit wallet folio case for best protection. Notice case sit just below the surface of the display so dropping it face down might be an issue, otherwise cases make it easy to hold, no accidental activating side mounted buttons. Get all hardware/software updates available, think I just received the 5th--they have corrected speaker issues and enhanced the touchscreen. I think this is a lot of phone for the low price, build quality is good. Not a gamer, so no comments how efficient it is. Android Auto app works well in my vehicle for hands free talking. Remember this is a cell phone, picture quality is acceptable. Want great pics, purchase a dedicated digital camera for hundreds or thousands of dollars.

Pros

Price during initial global release
Get all the updates available to fix any problems
Definitely buy A wallet folio case for protection
Excellent call reception, wifi connections in USA
Latest hardware update is 02/24/2021
Arrived with clean Android 10 OS, no bloatware

Cons

Very long delivery time from China to USA
Battery could last a little longer, drains fast
Occasionally have faded screen in bright sunlight
Wish SIM slot held 2 SIMS and 1 SD cards

Screen7.5
Performance7.3
Camera8.5
Connectivity9.3
Battery10

View answers

markojamaica

UMIDIGI Bison

Global · 6GB · 128GB

2 months ago

Lot of Bang for the Buck! Best Phone!

Had an idea this was going to be a nice phone per the specs and this Bison has exceeded my expectations as the developers out did themselves. I've had the Redmi 8T, Samsung A50, Xoami Mi A2 Lite, Samsung A10 & A20 and this Bison phone overall suits me the best out of those mentioned.
Have no problem with the sound like some have mentioned.
Having the extra buttons on the sides is a huge time saver when using the phone under water, screenshots and flashlight.
The phone is quick and frequencies are all 3+ bars. Wifi works with ease.
Bison comes with a clean Android 10 with minimal bloatware.
The rugged Bison build is the way all phones should be built these days for active users.


Pros

Fast
Tons of Features
Rugged Build
6GB Ram & 128GB
Sony 48mp Camera
Under Priced

Cons

Heavy Phone heavier compared to most

Screen9.7
Performance9.6
Camera8.0
Connectivity10
Battery7.0

View answers

mad69247

UMIDIGI Bison

Global · 6GB · 128GB

4 months ago

Disappointed, reboots often, low battery level

I cannot use the installed tools as the internal sensors are inaccurate, arc/sparks when connecting to USB, too many buttons, while handling phone, camera protrudes at rear and cannot touch the screen without rocking the phone when laid flat on table, as a phablet, battery level drops quick, as rear speaker is a hole And magnetic, dirt is filling it up, also rust dust. It freezes while playing candy crush

Screen5.7
Performance3.3
Camera4.7
Connectivity6.3
Battery5.0

View answers

mailgbgb63

UMIDIGI Bison

Global · 6GB · 128GB

4 months ago

Good value for your money...do not expect a 1000euro phone

t's my 2 one. Works great... fast, no junk in Android 10... just install the apps YOU want. Using it 12 days now... for that money the phone does everything i want good: GPS, Waze, internet,... sound can better but it is loud enough and with ears verry good? Photographs are good for me... maybe not the same quality then a GSM off more as 500eu but look at then....

Screen9.0
Performance8.6
Camera8.0
Connectivity9.3
Battery10

View answers

dracken64

UMIDIGI Bison

Global · 6GB · 128GB

4 months ago

It's not perfect, but the Bison works well for me and presents great value in terms on bang for your buck.

I took a chance and bought the UMIDigi Bison (I had bought a Power 3 and its connectivity was so bad I couldn't use it) and I have to say my faith in UMIDigi has been restored. For the price point, this phone has a lot going for it. I know some people are saying its no so good, but I have experienced no problems.

Pros

Solid
Extremely good value
Good battery
Good connectivity
Good screen resolution

Cons

It tends to turn on alot due to all the side buttons
Speaker on the bottom of the phone
Is a bit weighty

Screen8.7
Performance8.0
Camera9.0
Connectivity9.0
Battery9.0

View answers

hussain.aust

UMIDIGI Bison

Global · 6GB · 128GB

5 months ago

Bulky, Bad Cameras, Bad Customer Service, Better off buying something else

I have had this phone for about 24 hours now and I am already fed up with it. The calls keep dropping. The camera is touted to be a Sony sensor 48MP set up, however, the quality of images even in bright daylight is at best what my 8MP camera on 5 year old phone would get. The unit is big and the markings and buttons actually feel sharp on hands. The fingerprint sensor is a pain. The loudspeaker is positioned in the back, so if you have the phone on a table or bed you won't be able to listen to anything. Other little things that irk me are - Can't find how to enable showing network speed in the notification bar; something I had been able to do since the first Android phone I bought in 2012, lack of native call recorder, can't seem to assign keys for speed dial, lack of native dual app support. But the worst is lack of customer support. Umidigi has none.

Pros

Dedicated programmable buttons
Lack of bloatware, sans one app that can be uninst
Decent battery life
Fast enough charger.

Cons

BAD Camera
Sharp edges/texture of buttons
Poor fingerprint sensor
Lack of support

Screen5.0
Performance5.0
Camera4.2
Connectivity6.0
Battery9.0

View answers

paulju23

UMIDIGI Bison

Global · 6GB · 128GB

5 months ago

Overall the phone is good. If you don't mind the main speaker.

II currently have this phone for a few days. The main speaker of this phone is problematic; the speaker of this phone sometimes produces sounds that are broken and went back to normal if you meddle with it by doing a quick reboot or accessing google assistant. The speaker of this phone is not that loud and refine. Despite having a terrible speaker, the phone overall is good to have if you don't mind the sound. Just wear headphones or have a Bluetooth speaker to compensate for the terrible sound.

Pros

Power
Battery
Design
Not easily scratch

Cons

The speaker
Technical issues

Screen7.2
Performance6.3
Camera6.7
Connectivity6.6
Battery7.0

View answers

max3coll

UMIDIGI Bison

Global · 6GB · 128GB

15 days ago

Auto

Excellent value for money

Excellent device for the quality price, good nice and cheap It is very powerful, the only bad or uncomfortable thing is the weight and a little intermediate brightness

Pros

The ram and its speed
Memory
Selfie camera
Sound
Drums
Powerful

Cons

The weight
Screen brightness

View original review

Screen9.0
Performance10
Camera8.7
Connectivity10
Battery7.0

View answers

omiltaoheremita

UMIDIGI Bison

Global · 6GB · 128GB

15 days ago

Auto

Great cost benefit

I expected much less from this device, excellent, I already had a xiaomi mi4 that lasted more than 8 years and did not have the specifications that the bison has, it will probably last a long time.

Pros

Underwater camera
Resistance
Comfort
Drums
Fluidity
Screen

View original review

Screen9.7
Performance8.6
Camera9.7
Connectivity9.0
Battery9.0

View answers

bk66bk66

UMIDIGI Bison

Global · 6GB · 128GB

23 days ago

Auto

Overall good phone

I went from ulefone armor 3 to this UMIDIGI Bison. Overall good phone just lacks notification LED, a larger capacity battery would be appreciated. A persistent bug with certain notifications (insta and snap for example) which do not necessarily go up, you have to open them to see them arrive.

Pros

lightweight
end
good hardware

Cons

No notification leds
Battery lasts just 2 days on average
hp at the rear so its not very audible
lenses app photos in thick scratched after a week

View original review

Screen5.7
Performance6.0
Camera7.0
Connectivity10
Battery10

View answers
This service may contain translations powered by Google. Google disclaims all warranties related to the translations, express or implied, including any warranties of accuracy, reliability, and any implied warranties of merchantability, fitness for a particular purpose and noninfringement.