Log in
Log in
Add devices to your profile, rate and comment on your smartphones...
Country, language & currency
Interface language
Opinions from the

Vernee X

Share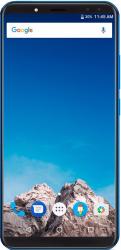 Summary
6"FHD+76% useful18:9

Helio P23 Octa-Core 4 GB RAM 64 GB

Android 7.0 Nougat VOS (Android 7.1 Nougat)
User score
Overall satisfaction
24 reviews
Screen7.9
Performance7.0
Camera6.3
Connectivity8.3
Battery9.4
Want to comment on the Vernee X?
It'll only take a minute, you'll help people decide.
Design & Materials
Is it a drop-resistant and scratch-resistant smartphone?
24 reviews
Do you think it's a nice phone?
24 reviews
Is it comfortable?
24 reviews
Can you see it well in the sunlight?
24 reviews
Performance & Hardware
Does it have good sound?
24 reviews
Does it work smoothly in everyday use?
24 reviews
What's your experience been with demanding games?
24 reviews
Camera
Quality of daytime photos
24 reviews
Quality of nighttime photos
24 reviews
Quality of selfies
24 reviews
Does it have a powerful flash?
24 reviews
Connectivity
Does it have good coverage for calls?
24 reviews
Quality of the GPS
24 reviews
Battery
How long does the battery last?
0%

Less than half day

0%

Less than a day

17%

One day

13%

More than one day

70%

Two days or more
24 reviews
Software
Did it come with preinstalled applications?
33%

It comes with a clean operating system

58%

It has preinstalled apps but they don't bother me

8%

It has preinstalled apps that I can't uninstall
24 reviews
Do you regularly receive updates?
44%

Never

0%

Once a year

50%

Every six months

6%

Every two months or less
24 reviews
View more
User reviews
User Reviews
piotr.kowalski

3 years ago

soostibor

3 years ago

The best phone under $200 so far

After the disappointment of Ulefone Power 2 I bought this Vernee X. It was a great relief:

- even though the battery is huge, the whole SW is not optimized, so it works for 2 days only
- the performance is in the mid range, not a lightning fast processor, but works OK for everyday use. I don't play games, but use navigation, e-mail, browser, music. For those it's perfect.
- The screen is OK as well, not from the top range, but OK
- The GPS is outstanding! Even in shaded environments it can get the fix.
- WiFi is sensitive enough.
- I don't have connectivity issues with Bluetooth, which is quite unique among cheep Chinese phones.
- Face recognition is not that fast and stable, but nice to have
- Fingerprint sensor is sensitive and fast
- Music is quite good, balanced, don't need to use equalizer much.
- Status led is OK, but not configurable
- SW is OK
- Don't have too much experience with photo, I don't really care

Pros

GPS
WiFi
Music
Bluetooth
Massive build
Overall very good for money

Cons

Battery should last a little bit longer
Volume level of built in speaker
Speed of processor
Not optimized battery consumption

Screen8.5
Performance8.0
Camera5.5
Connectivity9.7
Battery10

View answers

boffinxplorer1

3 years ago

christianhertwig

1 year ago

Auto

Due to the lack of updates, none in more than a year, the phone cannot be considered very safe.

A good phone in relation price - quality. If you spend a little more you can surely get a phone with better services and thus more security. I would not buy it again due to lack of service from the producer. And the dealer has no idea about anything regarding the phones and their operating system. And he becomes Swedish

Pros

The battery only, is very good and durable.

View original review

Screen7.5
Performance6.0
Camera3.2
Connectivity8.3
Battery10

View answers

matte.rifu

1 year ago

Auto

Vernee x1 4 / 64gb shows itself as a smartphone as complete as it is lacking in finishes necessary to be a great smart

What does not convince in the device is the photographic sector that is scarce in quality, color and interface. However it is a real battery phone with which you can have excellent autonomy over several days of intense use. The software is simple but not very graceful, in any case, the phone is used and offers a good display. He also informed you that the quality of the calls and the sound in general are of poor quality. Real battery phone.

View original review

Screen6.7
Performance6.3
Camera5.5
Connectivity10
Battery9.0

View answers

newdealrj

2 years ago

Screen9.5
Performance8.0
Camera7.0
Connectivity10
Battery7.0

View answers

jumayov

2 years ago

Auto

THE MICROPHONE IS NOT WORKING

Nothing else receive charge mobile, install all contacts and make a call, do not listen to me, I record an audio and nothing is heard, restore factory and still does not operate the microphone, I do not understand how to send a new phone without working well

Pros

I do not think anything good

Cons

the microphone does not work or is not installed

View original review

Performance7.0
Connectivity7.0

View answers

supermarczel

2 years ago

Auto

Very good battery, 128GB memory for data, gives you the freedom to install the application.

An average smartphone, I would not buy it again. The reason is the lack of updating, weak (even very weak) camera (camera), both front and back. As I mentioned, the big advantage is the battery - with Wi-Fi, Bluetooth and GPS on for 400km, the battery has dropped 20% (iPhone 70%). For intensive use - minimum two days, without fear of losing contact. 128GB disk space allows you to be calm about the installed applications. It often hangs for a few seconds, despite the 6GB operating memory is not a speed demon - probably the reason is the processor. In general, the phone is solid for this price.

View original review

Screen7.8
Performance4.0
Camera3.0
Connectivity10
Battery10

View answers

araujo.jmg

2 years ago

Auto

Very good on battery level.

Your phone has frequent problems with making / receiving calls. In 4G and 3G, you stop making and receiving calls frequently. Be in 2G is that it is stable. I've tried all the tips, from updating the software, resetting to factory settings, swapping a SIM card. In short it is for everything except for making calls. In 2G, it's for making calls and ... for nothing else. I already put the problem to Vernee customer support. I await an answer. We also promised to upgrade to Android 8, but we're still waiting.

View original review

Screen7.5
Performance5.3
Camera7.0
Connectivity4.7
Battery10

View answers

anonymous_95342

2 years ago

Screen3.8
Performance5.0
Camera3.3
Connectivity7.0
Battery7.0

View answers
This service may contain translations powered by Google. Google disclaims all warranties related to the translations, express or implied, including any warranties of accuracy, reliability, and any implied warranties of merchantability, fitness for a particular purpose and noninfringement.