Best Nothing smartphones 2023: compare and buy at the best price on Kimovil
We present a list of Nothing smartphones with the best prices on a wide range of domestic and foreign stores. Here you can choose which is the best store to buy your Nothing smartphone which will show the price of each mobile in the cheaper stores worldwide.
All Nothing smartphones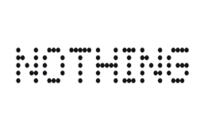 Smartphones by Nothing
Latest Nothing product launches
All Nothing smartphones by year
About Nothing
Nothing Technology Limited (NOTHING) is a London-based company founded on January 27, 2021 by Carl Pei, co-founder of OnePlus. The company has several knowed investors such as Kevin Lin, co-founder of Twitch or Steve Huffman CEO of Reddit.
Their first product was the "ear (1)", launched on July 27, 2021 , a great success in sales. After that, on March 23, 2022, it announced that it would launch its first smartphone, the "Nothing Phone 1" based on Android and with the Nothing OS customization layer.