Opinions from the

Ulefone Power 5

Share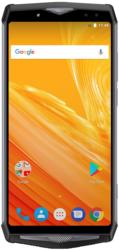 6"FHD+68% useful18:9

Helio P23 Octa-Core 6 GB RAM 64 GB

Android 8.0 Oreo Android 8.1 Oreo
User score
Overall satisfaction
20 opinions
Screen7.4
Performance7.7
Camera7.4
Connectivity8.0
Battery9.3
Want to comment on the Ulefone Power 5?
It'll only take a minute, you'll help people decide.
Design & Materials
Is it a drop-resistant and scratch-resistant smartphone?
20 opinions
Do you think it's a nice phone?
20 opinions
Is it comfortable?
20 opinions
Can you see it well in the sunlight?
20 opinions
Performance & Hardware
Does it have good sound?
20 opinions
Does it work smoothly in everyday use?
20 opinions
What's your experience been with demanding games?
20 opinions
Camera
Quality of daytime photos
20 opinions
Quality of nighttime photos
20 opinions
Quality of selfies
20 opinions
Does it have a powerful flash?
20 opinions
Connectivity
Does it have good coverage for calls?
20 opinions
Quality of the GPS
20 opinions
And the WiFi?
20 opinions
Battery
How long does the battery last?
5%

Less than half day

0%

Less than a day

5%

One day

5%

More than one day

84%

Two days or more
20 opinions
Software
Did it come with preinstalled applications?
25%

It comes with a clean operating system

75%

It has preinstalled apps but they don't bother me

0%

It has preinstalled apps that I can't uninstall
20 opinions
Do you regularly receive updates?
31%

Never

15%

Once a year

46%

Every six months

8%

Every two months or less
20 opinions
View more
User reviews
User Reviews
dmplsgiannis5

Ulefone Power 5

6GB · 64GB

A bad phone

It's a very heavy and big phone. Really uncomfortable to the user. After a year of use, without any falls and hits, the screen suddenly started malfunctioning. It goes black with backlight while sounds continue to hear. At the same time it loses connection to both SIM cards. Restoring to factory settings did nothing to solve the problems. I emailed to the manufacturer and i had no answer. I recommend choosing an other phone.

Screen3.0
Performance1.6
Camera6.0
Connectivity3.0
Battery10

View answers

T-VIRUS

Ulefone Power 5

6GB · 64GB

if only it had a Snapdragon 855 and an AMOLED display...

battery life: the device lasted 36 hours in my heavy usage benchmark
in addition, it lasted 81 hours in my everyday use benchmark
i can charge my wife's iPhone from 5% to 100% and still have over 80%

weight: this thing is HEAVY so dont expect a light phone, it can even be used as a means of self defense if the need arises

design: i like the thickness as it adds to the structural integrity making it resistant to bending, bezels allow you to hold the phone without resorting to a "claw grip" but the fingerprint sensor should be on the back

hardware: the MediaTek Helio P23 is an ok midrange CPU, it handles everyday tasks like web browsing and social media without issue, 1080p youtube streaming can become stuttery though
the Mali-G71 MP2 can run GTA San Andreas, with frame drops/glitches, but it runs PUBG without too many issues

the ugly:
it uses a hybrid sim tray, so you cant use an SD card and 2 sim cards at the same time
no 3G/4G 850mhz or 4G 700mhz
no headphone jack

Positives

battery life is beyond expectations
doesn't overheat while fast charging
good durability (can take a drop without breaking)
18W wireless fast charging
clean Android install
front flash is a feature i wish more phones had

Negatives

no headphone jack
hybrid sim tray
LCD screen (AMOLED is much better)
lack of cellular network support in Australia/USA
melts cheap cables while fast charging (literally)
fingerprint scanner in bad location

Screen9.2
Performance7.0
Camera7.5
Connectivity6.6
Battery10

View answers

medoshtedo4

Ulefone Power 5

6GB · 64GB

Very good cell phone, recomended it.

There is no perfect cell phone, but this is pretty good one. After month and a half of using, negatives are next: Wrong place of the photo button, because I accidentally activated it. Has to be on the top of that side and not on the bottom. I am dissapointed that FM radio working only when is screen ON, it is useless comsumption of power. Missing an extra slot for the SD card. Automatic changing horisontal/vertical pictures on the screen is not smoothly everytime, and afected work of FM radio too. Supprised for only about 82000 points on Antutu banchmark, because first ranking cellphone has about 285000 points. Its probably because of processor and graphic chipset, but for everyday use its not bother me. I dont need gamer cellphone at all. Positives are: Plenty of RAM, up to date Oreo with no additional features, price, perfect working on web surfing, and ofcourse - battery power :)
Probably worse thing about phone is his 330 g.weight, because if it drop me...screen will be broken!

Positives

baterry
price
good working
sound on in-ear head set

Screen7.0
Performance9.0
Camera7.3
Connectivity9.7
Battery10

View answers

fulvioottaviano

Ulefone Power 5

6GB · 64GB

Very dissapointed with the Ulefone Power 5

After waiting over a month for shipment I finally recieved my phone only to find out that it does not work with my Bell Canada 4G SIM. I then got into a new network plan with FIDO. Outbound calls take forever to go through. Inbound calls go to voicemail before the phone ever even rings. Sometimes the network goes down altogether which is not normal as I am in a strong signal urban area. Adding insult to injury, I was sent a european charger which is useless in Canada (the round prongs do not fit our flat pronged recepticles). Repeated emails to the AliExpress Ulephone vendor have not produced any concrete offers for a fix or replacement. I am extremely dissapointed.

Screen8.8
Performance4.7
Camera7.0
Connectivity4.7
Battery10

View answers

mariomird9

Ulefone Power 5

6GB · 64GB

Auto

Battery and good performance

With 6GB of RAM the operation of the mobile is very good, although as you start to fill the 64 GBs of storage it begins to slow down (with a format and a good cleaning it works fully again). Camera quite poor but if you have been looking for this model it is for its extraordinary battery, it can last up to 6 days or more with a very very low rate but using it normally more than 2 days it can hold you, and using it thoroughly to work and demanding games more than 1 day and a half. Good connectivity except if you simultaneously use bluetooth and wifi.

View original opinion

Screen5.0
Performance8.3
Camera3.5
Connectivity9.0
Battery10

View answers

avvvincenzotravaglini

Ulefone Power 5

6GB · 64GB

Auto

Superb !!! Excellent battery performance at the TOP, unrivaled

I bought it by sending it to me from Hong Kong with a little skepticism, then I saw that the battery lasts, with only one recharge, more than a week even with medium use, with intense use it lasts quietly up to three days. I can easily watch full movies For several days several hundred hands-free phone calls And the battery runs out only by 20%, 30%., The hardware is crazy has 6 gigabytes of RAM is an octa Core processor, in fact it is very fluid in all situations, it never stops and it's very fast. My father wanted the same cell phone I bought it and he is enthusiastic now I will buy another one to keep it more, In fact, to my great amazement I saw that the UFO does not make this cell phone anymore, In my opinion it is a fatal mistake since this mobile phone has some unique features, it combines a lot of RAM and a fast battery-powered processor at an absolutely affordable price with a big screen that is unrivaled. The camera has 21 pi

Positives

Infinite battery
Excellent hardwer performance
robustness
Wide and bright screen
Ultra powerful camera
Refill wirless

Negatives

Nothing
If I really have more memory and camera softwer

View original opinion

Screen9.7
Performance10
Camera9.5
Connectivity10
Battery10

View answers

huawei13210

Ulefone Power 5

6GB · 64GB

Auto

Crazy autonomy

Solid construction, well calibrated screen. Its very correct! The quality of the photos is standard, neither good nor bad it does the job. A slow hair at the shooting. Quite heavy smartphones but very enduring battery. 30% used in two days with bluetooth GPS, 4G sharing and surfing. Impeccable fast charger 25w 5v 5A. In short I am happy!

Positives

Autonomy
Screen
His
GPS
Network

View original opinion

Screen9.0
Performance9.0
Camera7.2
Connectivity10
Battery10

View answers

bryam.c.gomes

Ulefone Power 5

6GB · 64GB

Auto

Lasts the battery but is uncomfortable

An ideal device for those who have bigger hands, has a giant battery that will last a long time, especially in everyday life, has descending and usable cameras, but it is a heavy device that over time can feel a certain discomfort when using .

View original opinion

Screen4.2
Performance9.3
Camera8.0
Connectivity7.0
Battery9.0

View answers
This service may contain translations powered by Google. Google disclaims all warranties related to the translations, express or implied, including any warranties of accuracy, reliability, and any implied warranties of merchantability, fitness for a particular purpose and noninfringement.